"I actually took the MCAT 7 times... It was a very, very difficult journey for me. I hung tight when it was tough, and I did pretty well at the very end. And, I made it. There would be no acceptance to medical school without Swartwood. Thank you, Swartwood!"
- Andy Chen SWARTWOOD MCAT Student (Now: Loyola University Chicago Stritch School of Medicine Student)

Drexel University College of Medicine




Featured on the AAMC's Inspirational Stories! AAMC Andy Chen
"
I love it (the SWARTWOOD MCAT Class). The course has taught me how to think about the MCAT in a new way. I now think about the test in terms of strategies instead of just simply the content. And, it's really fun. (My favorite part is) probably the instruction from the main instructor, John, who teaches us in such a fun and entertain way… Well, I have attempted to study for the MCAT for over a year now with other test prep companies, and I think this program is entirely different. And now, when taking sections… I focus more on the strategies … the class really is fun and entertaining, which make studying for the MCAT more enjoyable!"
-Rachel T.
SWARTWOOD MCAT Student
Yale Pre-Med
"Dear Future Health professional,
Congratulations on choosing a pathway that will forever intellectually challenge, stimulate, and change your life. As you already know, this path is not an easy one. But DON'T GIVE UP!
No one has the perfect formula for getting into medical, dental, or any other health professional school. If they do, they're lying (or in that rare .00001% of pre-health students). During my sophomore year, my grades plummeted and it took me a whole two years to bring my grades back up to where they were. I even took the MCAT three times. I wasn't ideal, but I didn't give up. Just keep trying. Try your best and you won't have any regrets. This profession is a rewarding, lifelong process. The challenge makes the reward even better.
I have to thank John and the SWARTWOOD TEAM for all of their support as well. I felt discouraged after my second MCAT attempt, but they believed in me. They never pressured me into retaking, but they emphasized their faith that I would get into medical school. That's all the support I needed to take it for one more final time. And I did extremely well! If I can get into medical school, you can too!
You are in very good hands. Now just keep trying, and don't give up.
Sincerely,
Future Dr. Sandhya A."
-Sandhya A. SWARTWOOD Only MCAT student
Drexel University College of Medicine
"Preparing for the MCAT can be a daunting task. Studying on my own, I realized that memorizing pages of information was not an effective method for succeeding on the exam. As with other standardized tests, the MCAT does not measure your intelligence or your understanding of science. Rather, it is a test to see how well you can take the test. The MCAT challenges your ability to apply basic science knowledge and your critical thinking skills. While I was comfortable with the material behind the MCAT, SWARTWOOD stepped in to help me learn how to take the test itself and how to apply background information to the passage-based question format of the exam. Hours of practicing honed my test-taking skills and put me in the proper mindset to take the MCAT. Thank you, SWARTWOOD, for playing an instrumental role in my MCAT success!"
-Samia M. SWARTWOOD MCAT student
University of Cincinnati College of Medicine
University of Washington Medical Center Resident Physician
Now: Anesthesiologist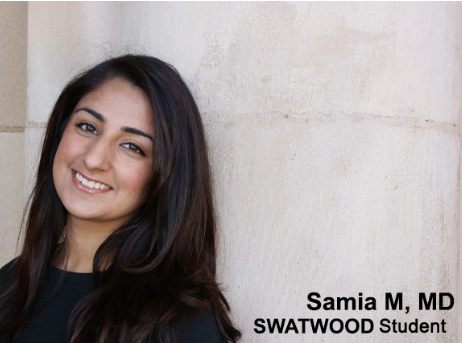 "
I chose Swartwood over the other people that teach it for several reasons. One, he really cares about us. John cares that we do well. He just wants us to get most out of his teaching, the most out of the experience…it's always really high energy in here, fun. Studying isn't always fun but John somehow makes it fun…I think John is just different. That's just a good word for him.. he's the smartest person, smartest human being, I think I've ever met in my life, and he knows how to teach. That's important. He's not just a textbook.. He really teaches the material…So, I always walk away learning something new."
-Lauren A. SWARTWOOD MCAT Student
University of Alabama Medical School
"Well, I thought the MCAT was horrible before I took the class. So, …one day I found out about John, and I decided to take his class and try it out. .. a verbal intensive class that he was offering, and John is amazing. He's the best teacher I've ever met. Basically, unlike other tutors, he really teaches you… he explains everything very well. If you have any questions at all, he will answer.,.. he's so smart. Yeah, there is nothing else to say."
-Tony H.
Swartwood MCAT Student
UCLA Pre-Med
David Geffen Shcool of Medicine (UCLA)
"My favorite part is that it's like a family unit. We're all learning together, working hard. And, we all are having fun… Well, I think John does a really good job at helping us to prepare mentally for the mcat and not just questions, but to approach questions with, you know, the right attitude!"

Mariam O.
SWARTWOOD MCAT Student
UCLA Pre-Med

"Deciding on the right MCAT class can be a very challenging process. But, I can assure you that SWARTWOOD is the right choice. What sets John's class apart form the others is the individualized attention he offered his students. Verbal (CARS) was always keeping me from reaching my desired score. I started out with a 7 (124*) in verbal, but after practicing with John, I improved my score to a 10 (127*). John doesn't waste your time with material, which you can study on your own. Rather, every class is geared toward analyzing passages and learning the techniques that will help you succeed on the test. He also tailors the class to your needs: if you want more practice with kinetic or kidney function, then that's what you will get. Thus, it is with confidence and sincerity that I recommend SWARTWOOD."
-Tasha F. Swartwood MCAT student
UCLA Medical School student
MD Harbor UCLA Medical Resident Physician
"Hey John, I hope that all is going well. It seems like it was only yesterday that I met you as my TA for Math 3C. Anyway, application season is finally over and I wanted to thank you for all your help over these past years, both as a mentor and as a friend. I thought that you would be interested to know that I have decided to go to Johns Hopkins for my MD/PhD training. [James later decided to go to Stanford Med instead.] I know I'm going to miss California, but I'm pretty sure I'll be back. Anyway, take care and let me know if there is anything I
can help with.
Best wishes, James"
-James C. SWARTWOOD MCAT Student
Stanford Medical School MD/PhD Student
*modern equivalent
"I love that it (the SWARTWOOD MCAT Class) keeps me mellow and calm because I'm usually anal about this sort of stuff. My favorite part is definitely the teaching practice. I've never come across a teacher keeps everything so calm. They usually, try to make me over study for everything."

-Anisha P.
SWARTWOOD MCAT Student
University of Michigan Pre-Med
"I scored over 30 (508*) on the MCAT with less than 2 months of studying thanks to SWARTWOOD!
Having graduated from college years ago, I didn't remember anything from the basic sciences. When I took the MCAT then, I studied for a stressful number of months and scored a 23 (499*).
This year, I went through Swartwood and improved several points in each section.
At SWARTWOOD, I learned priceless strategies while adopting John's "No stress" attitude.
SWARTWOOD gave me the confidence to conquer the MCAT and best of all the luxury to "send it away" for good. To anyone who is in doubt of themselves, relax. There is more to life than the MCAT. You've made it this far for a reason.
Thank you again!"
*modern equivalent

-Bonnie L:
SWARTWOOD MCAT Student
Special Masters Program

"I consider myself very lucky to have had world-class teaching from John for the MCAT. Swartwood prep is special because of its founder and main instructor, John, who is an extremely hard worker, excellent teacher, and caring mentor. He describes relatively complicated concepts in verbal reasoning, physics, chemistry, and biology using easy-to-understand vocabulary, metaphors, mnemonics, and examples. John truly cares about giving individual attention to his students and he is dedicated to our success. After a three-hour long lecture on organic chemistry, John e-mailed his students offering to re-teach the entire session in addition to the regularly scheduled lesson because his first lecture was not up to his standards. John's commitment to excellence shines through in all aspects of Swartwood prep – there is no better place to learn how to approach the MCAT.
The first time I took a AAMC practice MCAT I scored a 28 (505*).
After 3 months working with John, I scored a 37 (517*) on the real MCAT.

"
-Mike P. SWARTWOOD Only MCAT student 

USC Mecial School student (Keck)
"
Before I took the SWARTWOOD Only class I had tried several different MCAT preparation courses, but did not achieve the results I wanted. Other MCAT courses focused primarily on memorizing a lot of information, and thus I felt overwhelmed by details that might show up on the exam. My SWARTWOOD experience was different in that the focus was on critical thinking, such as how to think your way through MCAT problems using only basic science.
John taught only the material which could appear on the exam in a very concise, memorable, and even entertaining manner. He was also very approachable and explained answers to questions in a way that was easy to understand. The course atmosphere was upbeat and motivational, and during class breaks John would share advice and inspirational stories of students' journeys to achieve acceptance into medical school. The workshops were insightful, because I was able to practice how to attack problems through different critical thinking strategies. The Verbal Reasoning course was also very helpful, since John taught us how to dissect the passage in order to answer questions faster. I also really appreciated a Verbal Reasoning workbook full of practice tests so that I could practice a test taking strategy which would work for me.
Overall, I greatly benefited from my SWARTWOOD MCAT course, as it helped me achieve success on the MCAT in a smart way, by using critical thinking to attack the problems without stressing out too much about the content of the exam.
"
-Vanessa M. SWARTWOOD Only MCAT student

University of Illinois College of Medicine- Class of 2016
Want to watch more testimonials?
CHECK OUT OUR Youtube CHANNEL